Hope and a Future is the true story of a young man whose life on the streets could not be more different than mine, a retired international banker. The book chronicles the life of John Maina, an orphaned street boy who lived in the slums of Nairobi, Kenya. The narrative arc runs from his earliest memories through his early 30s, a life of gritty survival, a descent into darkness and courageous renewal. Hope and a Future is not the improbable story of one man's ascent to remarkable professional heights; that's not the way life works out for most of us. This is a story of the triumph of an ordinary person who overcomes extraordinary hardships.
Framing John's story is my relationship with him. I met John when he was 17 years old. He was living in an orphanage which I visited in 2001 on a humanitarian field trip through East Africa. John and I spent only a few hours together that day and we bonded instantly. We did not see each other for twelve years until we were improbably, perhaps miraculously, re-united in 2013. The opening and closing chapters of the book share how we met, how we were re-united, and the immense impact John has had on my life.
Meeting John in his orphanage inspired me to begin a commitment to philanthropic work in Kenya paralleling my professional career. During nearly two decades of service to others, I've had to face my own fears and occasional complacency in dealing with those in need. Above all, this work has led to the humbling realization that we will never alleviate the world's suffering but each of us can contribute to making it better.
In writing this book, John and I spent countless hours together in the slums, visiting the sites that were most important in his life. Street life is not to be romanticized; it is a miserable existence which can bring out the worst in humanity. Few of us are tested in the perilous conditions of an African slum, yet in learning John's story I discovered a world of human dignity where I never would have thought to look. From him I learned profound lessons of resilience, perseverance and courage, qualities of human character in sharp contrast to the material circumstances in which he passed most of his life.
Yes, John's life could not be more different than mine; after all, what could be more different than the lives of a street boy and a banker? And how remarkable it is that the story of his life has become an inspiration.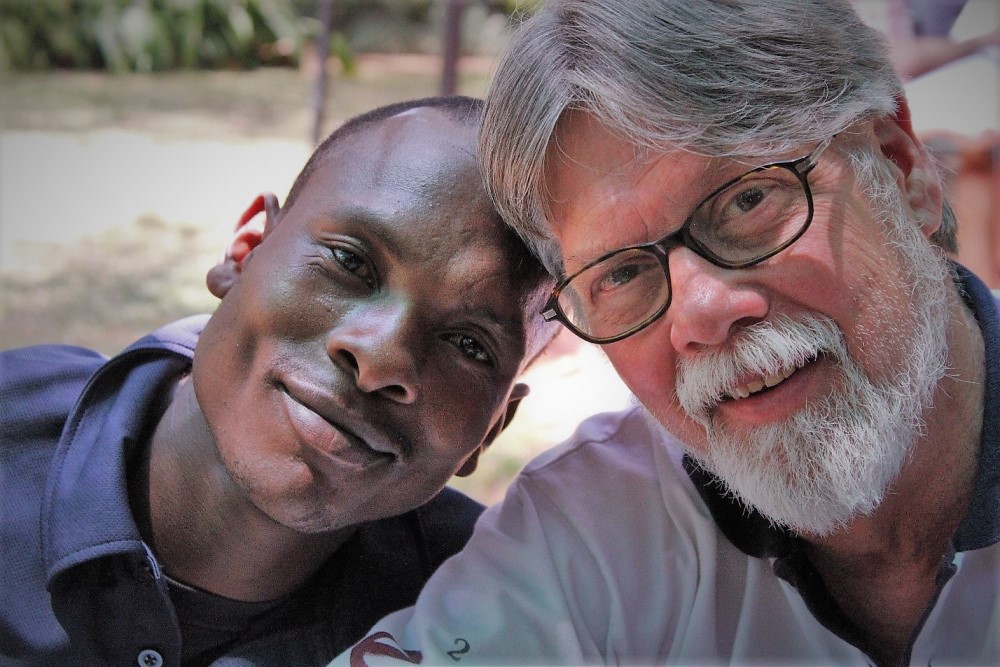 All proceeds that I derive from the book will be dedicated to supporting street boys, orphans and vulnerable children.
Enjoy this running photo journal of rich imagery and short commentary providing background to the book.
By far the most meaningful, fun and rewarding endeavor since retiring in 2016 has been composing my first book, Hope and a Future: Life, Survival and Renewal on the Streets of an African Slum. Growing out of nearly 20 years of philanthropic work in Kenya, the book chronicles the true story of a street boy, John Maina, who lived in the slums of Nairobi. Eventually we became so close that, in an African sense, we are now father and son.
I thoroughly enjoyed my 36-year professional career in international banking (1980-2016), especially as the Representative in Mexico City for Continental Bank of Chicago in the mid-1980s and as Dean of Global Credit Training for Bank of America during the concluding decade as a banker.
Beginning in 2001, straddling my professional career, I became heavily involved in community service in Kenya during the AIDS pandemic. Beside the innumerable intangible rewards that come from serving others, my years of commitment to Africa also brought significant responsibility and some recognition. From 2012-2018, I served as Chairman of the Board of Trustees of Ripples International, a diversified children's welfare operation in central Kenya. Based on this work, in 2015, I was presented a Global Volunteer Award by Bank of America.
Also, in 2015, I entered into partnership with my wife, Linda, who launched her innovative tour company, Global Heart Journeys, which offers a unique 16-day Women's Journey to Kenya.
I've been fortunate to enjoy fine educational opportunities holding degrees from Cornell University (B.A., Political Philosophy), Oxford University (B.A., Politics and Economics), and Johns Hopkins School of Advanced International Studies (M.A., International Economics). I'm currently on leave from the Divinity School at the University of Chicago where I'm is pursuing a master's degree in religious studies, which maybe I'll finish between books.
Linda and I are proud parents. Our older son, Lars, and his wife, Brei, are environmental scientists, and our younger son, Nils, is a professional jazz drummer in Chicago.
Linda and I live north of Chicago on the edge of the Kettle Moraine forest in the southern lakes region of Wisconsin. We are cat lovers with three residing indoors and, at last count, fourteen coming and going outdoors.
About John, the main character
John Maina was born in 1983 into a lower middle-class family in the Eastleigh district of Nairobi, Kenya. Through a series of tragic events, John was cast onto the street at age five. Scratching his way through life, he eventually entered an orphanage which supported his schooling. In 2001, during his third year in high school, we met when I was visiting the home on the first stop of a humanitarian tour through East Africa. We spent a brief morning together and just as we were developing a friendship, I had to depart.
John found himself on the streets again after high school, falling into the most desultory period of his life. Through a series of fortuitous events he landed a spot at a technical college which lead to an internship at a food processing company. He was on a professional track that would finally lift him out of poverty. One night while walking home from work, however, he was savagely attacked by a gang of street boys wielding machetes, and he was… (Well, you'll just have to read the book.)
Background note from the author: In August 2001 amidst the AIDS pandemic, my wife, Linda, and I, along with a group from Chicago traveled through East Africa viewing various humanitarian projects. Our first visit was to the Good Samaritan orphanage in the Mathare slum of Nairobi, Kenya. Mathare was dangerous and the streets impassible by vehicles, so we had to be accompanied by older boys from the orphanage. John Maina escorted me that memorable day. When we reached the orphanage, John took me aside and gave me his own special tour of the compound. (Now let's pick up the action.)
In such a short time, I took a liking to this young man; he had found a way into my heart. The day had unfolded like a movie. Those few hours I spent with John were cinematic in scope. He had walked me through the vibrancy of Mathare, every sight accented by the cacophony of hawkers, motorbikes, braying animals and blaring boom boxes. Just as a film director emotionally engages the audience scene by scene with thespian subtleties and evocative musical scores, John led me deeper and deeper into his life in the orphanage. But unlike a movie which only figuratively takes you by the hand, John had literally taken mine. But where was the script taking me?
At last our visit was coming to an end. It was time to make our way back to the van. John accompanied me up the hill. I deliberately slowed our pace so we could spend as much time together as possible. We exchanged idle chatter, each word passing the unspoken warmth of friendship.
We arrived at the vehicle. I didn't want to go. I didn't want to leave him behind. We were just getting to know each other. Now it was ending just as our friendship was beginning. I tried to make conversation, stammering lamely: "So, John, what will you do next? What would you like to be?"
Without hesitation, John firmly responded, "I want to be a lawyer."
It pained me to hear those words. John had no parents and no money. He was living in an orphanage in an impoverished country in one of the most appalling slums on earth. It was wrenching to see such talent with so little hope for opportunity. I remember fumbling and stumbling with life when I was 17 years old. I remember counseling our sons at John's age, helping them, as best I could, find their passions. I so wanted to sit with John, to hear his story, to offer advice and encouragement, but the van was loading. I felt helpless. Oh, God, give me back this morning!
I looked at John. Before I could speak, he implored: "Please, don't ever forget me."
Words failed. Life's most profound experiences are beyond words.
In the silence, I felt my heart break.
In my entire life, nothing has ever had the impact of John's simple plea. Those several words unleashed feelings deep inside me that I didn't realize were even there.
How many times have I tried to make sense of that haunting instant? Here was a spirited young man whose dreams were colliding with a cruelly indifferent world. As compassion for him swelled in my heart, a frightening mystery crept from deep within me: in life's inscrutable lottery, how was this happening to John? What calamities had landed him in such neglect? I quaked at the very thought of our own two sons, Lars and Nils, fending for themselves on the streets at seven years old. John and I stood next to each other in an abandoned gas station, the fragility of hope alongside fortuitous privilege.
Quietly, we shook hands. We asked Linda to take a final picture of us together. Unlike a movie plot that ultimately resolves dramatic tension, I stepped into the van overtaken by a restlessness that would linger for years. As we drove away, I glanced out the back window. I saw John standing silently, looking down.
Then traffic parted us.
Join my mailing list to receive monthly updates about my upcoming book